Two Chinese superstars shine in Beijing – as part of Team USA
"Jenny" Lang Ping and Chow Liang, the coaches of the US volleyball team and American gymnast Shawn Johnson respectively, have returned home to great acclaim.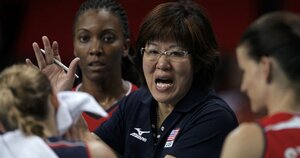 Alexander Demianchuk/Reuters
When the superstar of the American women's volleyball team goes out in public, team members sometimes have to form a protective ring around her. Fans will frame self-portraits carefully so she is in the background, mothers will hold out their children to her, crowds hope merely to touch her.
She is the so-called "Iron Hammer," winner of four world titles, and considered by some to the best women's volleyball player in the history of the game.
She is the coach, "Jenny" Lang Ping, and along with gymnast Shawn Johnson's coach, Chow Liang, she is one of two former Chinese sports stars who have returned to their birthplace under an American flag.
Recently, China would have liked to have had them back. Lang's US team defeated her native team in a five-set preliminary-round match watched by Chinese President Hu Jintao Friday. Earlier that day, Chow's pupil came back from 0.45 points behind on the final rotation of the women's all-around event to top Chinese Yang Yilin for silver.
For both, the return home has been at turns strange and gratifying. Chow has not been back since he left in 1991 to study English at the University of Iowa. "There are such big improvements," he says. "It is such a beautiful city."
Lang has been back more often, but she admits she still needs a GPS to know where she is now. Her players can just follow the crowds.
"It's difficult for us to grasp her popularity," says Nicole Davis, who is the libero, or defensive specialist, for the US team. "I don't think there are any parallels to it in the United States."
---