China: Can Olympic gold last?
Its dominance at the Beijing Games' gold-medal table relied on a massive centralized sports system.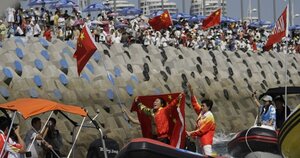 Herbert Knosowski/AP
The Beijing Games have established a new Olympic order. To win these games, China made a massive investment in its sports system. If it continues, the dominance could continue for years to come.
The host nation is set to win the gold-medal table. By the time the Games end Sunday, it may near the Soviet Union's record of 55 golds in a nonboycotted Olympics, set in 1988.
Yet the triumph has come at great cost. China's centralized sports system is expansive and expensive. With little of a grass-roots sports culture here, the government must maintain or even increase its funding to stay on top.
China must decide whether to pull back now that it's won its hometown Games or use this success as a foundation for more. Its decision could shape the medal table for years to come.
"With the good feelings there is going to be a lot of public support for continuing the policy of winning gold medals," says Susan Brownell, a professor at the University of Missouri in St. Louis who has also studied at Beijing Sport University. "[The decision] might have to go into the top leadership of China."
The Beijing Games have brought new faces. Never before had Jamaica won more than two gold medals. With three days of sprints remaining, it has already won five. Britain is gearing up its Olympic machine for London 2012: Here it has won 17 gold medals, its most in 100 years.
---