For the unsung javelin throw, millions of superfans
Many Olympic events get little notice worldwide but have huge national followings. For Finland, the javelin throw is a national obsession.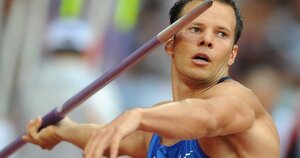 Gabriel Bouys/AFP/Newscom
Saturday, some 300 Finns will crowd into the Bird's Nest, outnumbered but in full voice, to celebrate the men with the mighty spear.
Tero Pitkamaki will skip down the runway, and they will know that he has been losing distance on his throws this season because his aim is off. Tero Jarvenpaa will approach the line, and they will expect a barbaric roar, audible even in the Bird's Nest's interlaced rafters high above, as his javelin arcs skyward.
There is no place on earth where Saturday's javelin final will mean more than in Finland and in those scattered sections of the Bird's Nest where its blue-and-white-clad pilgrims find a seat. For a nation bound by ice and silence, the release of the javelin – and the yawp that always follows – is its own release.
For almost as long as there has been an Olympics, there have been Finns to throw the javelin in it.
In 1908, the first year javelin was in the Olympics, Finns took fourth, fifth, sixth, and seventh place. Twelve years later, they swept the medals, taking fourth, too. At Thursday's qualification rounds, Finland was the only country to qualify three throwers for the 12-person final.
A national obsession
These things happen at the Olympics. A sport becomes intertwined with a nation's sense of self, making it more than a matter of gold, silver, and bronze, but of national pride. Yet in Finland, javelin is a unique obsession.
According to Vellu Jussila, who watched the qualifying rounds from Section 133 of the Bird's Nest, "Pitkamaki is the biggest athlete in Finland."
Pitkamaki himself notes, with some humility, that 2 million of Finland's 5 million residents tuned in on television when he threw the javelin at the 2005 world championships. A similar audience is expected Saturday. More than decade earlier, when the world record holder – a Czech – was rumored to be using an illegal javelin, Finnish track officials disassembled the spear on live television.
---