Malaysia's top opposition figure makes a comeback
Anwar Ibrahim retook his parliament seat Tuesday. His goal: topple the government.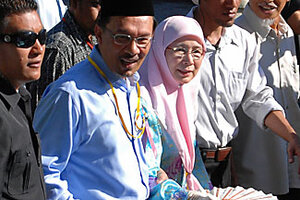 Razaleigh Ramly/Reuters
For nearly two decades, Anwar Ibrahim was the favorite son of this parliamentary district. He rose in public life to the rank of deputy prime minister – a leader in waiting – until a power struggle saw him tossed into jail in 1998 on charges of sodomy (a crime in Malaysia) that were later quashed.
On Tuesday, Mr. Anwar won back his parliamentary seat in a by-election, sealing a remarkable political comeback and putting Malaysia's emboldened opposition closer to its goal of taking power. Anwar received 31,195 votes, beating his top rival's 15,524 for the seat vacated by his wife Wan Azizah, who had held it since 1999.
As opposition leader in parliament, Anwar claims he can persuade enough lawmakers to cross sides so as to bring down the government, which saw its support crumble in national elections in March. Such a move would shake the foundations of coalition politics in a democracy that is fissured along ethnic and religious lines. Anwar has said a vote of no confidence in the government could come as early as next month.
So far, the political jockeying in Malaysia has been largely orderly. However, in an echo of events in 1998, Anwar was recently charged with allegedly sodomizing a young aide.
If found guilty, he stands to lose his parliamentary seat and face another jail term. He and his supporters say the charges are false and politically motivated. Malaysian media have carried photos of the aide posing with deputy prime minister Najib Razak, an archrival of Anwar.
---