Chinese Muslims join global Islamic market
They are forging economic ties with the Muslim world at a time when interest in Islam is also growing.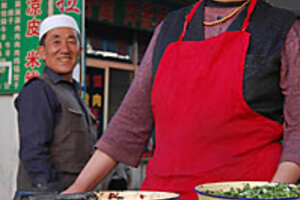 Peter Ford/The christian science monitor
Mohammed Yussuf picks up a giant onion and smiles as he admires it. The vegetable on display at a trade fair here pleases him not only because of its proportions; the onion's main virtue in his eyes is that it is halal, acceptable on Muslim dining tables.
Mr. Yussuf, a Malaysian businessman, makes a tidy profit importing halal foods from this remote corner of northwestern China. He's the type of foreign trader this Muslim region hopes to attract more of, in its bid to grab a slice of the multibillion dollar global Islamic food business.
"One-third of our population is Hui," says Ma Yingqiu, this city's deputy mayor, referring to the Muslim ethnic minority who live in the Autonomous Region of Ningxia. "They have the same habits as people in Islamic countries. They are this region's competitive advantage."
As the local government strives to forge new economic ties with Middle Eastern and other Muslim nations, citizens of this impoverished part of China bordering the Gobi Desert are rediscovering Islam. Emerging from centuries of religious isolation, Ningxia Muslims are developing "an international sense of community," says Ma Ping, head of the Institute of the Hui and Islam here.
While that might once have unnerved the Chinese government, always uneasy about divided loyalties, Ningxia's desperate economic straits – it is the country's third poorest province – have prompted a rethink, says Professor Ma.
"Stability used to be the top priority here, but now it is development," he says. "What the government wants most is money."
---