Iraqi insurgents forced underground
But even in hiding, Al Qaeda in Iraq can carry out high-profile attacks and has infiltrated security forces.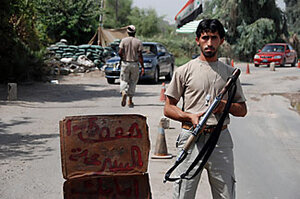 tom A. Peter/The Christian Science Monitor
When the Iraqi Army caught Abdul al-Wasit, a mid-level operative for Al Qaeda in Iraq (AQI), he was working undercover as a shepherd in a rural area. It was a far cry from his earlier days in a village 65 miles south, where he used to extort locals and openly execute rivals.
The once seemingly untouchable insurgent had been reduced to hiding on the fringes of society. Many of his fellow operatives had joined him, and they continued to plan operations while supposedly trading sheep.
Facing a local population that has grown intolerant of AQI's indiscriminate acts of violence, many operatives like Mr. Wasit have gone underground – some have even formed sleeper cells in the Iraqi security forces. Members now only emerge from hiding to conduct high-profile attacks. Though this strategic shift has created an apparently less active AQI, the group has not given up the fight in Iraq and will likely remain a threat here for years.
"It's good to think of them [AQI] as formerly an insurgent group that's now more of a terrorist operation," says a senior US military official. "What you see is no longer a vibrant network, but a number of smaller cells that, rather than having the support of the population, oftentimes lives in fear of the population, because the population has turned on them."
As recently as a year ago, the likes of Wasit openly roamed the streets. The AQI had offices in almost every major Iraqi city. Today, however, most remaining members have been forced into hiding due to the country's security improvements.
---