Japan's ruling party hopes Aso will restore its reputation
As a popular politician, Olympian, and fan of manga comics, Taro Aso contrasts sharply with the lackluster former prime minister, whose shoes he is likely to fill on Wednesday.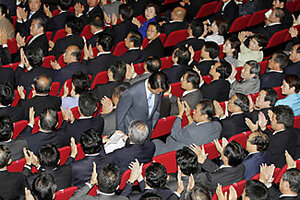 shizuo kambayashi/AP
He's a veteran politician known for his unruly tongue and gaffes that have alienated everyone from the nation of China to the elderly and the infirm. He's a former Olympic sharpshooter who avows a deep interest in manga comics, one of Japan's most popular cultural exports. He has an affinity for gold necklaces.
Now, Taro Aso is being tapped by the Liberal Democratic Party, which has presided over Japan for most of the past half-century, as the one to restore its badly tarnished reputation at home – and offer reassurance abroad that the world's second-largest economy speaks with a steady voice at a time of global financial turmoil and pressing diplomatic concerns.
Mr. Aso easily walked away with the party's presidency Monday, garnering 351 of the 525 votes cast and trouncing four competitors. All but certain to become Japan's 13th prime minister in 19 years, pending approval by the LDP-controlled lower house of parliament Wednesday, he promises a sharp counterpoint to his lackluster predecessor. He may try to capitalize on that fresh tone – as well as an expected ratings bounce – by quickly calling a general election.
"We're now at the starting line to face new difficulties," Aso asserted after his victory. "Once we win ... I can fulfill my mission."
But his ability to reverse his party's fortunes is closely linked to persuading voters that he has a clear strategy on a host of festering economic and social woes: sharpening income inequality, rising ranks of part-time workers, food and gas price hikes, and weak services for the elderly. Last week's scandal over tainted imported rice has not helped the public mood.
---