North Korea shows off its grandeur – and 'life as usual'
Empty streets and shops belie the image of success that a tightly controlled tour of Pyongyang tries to project.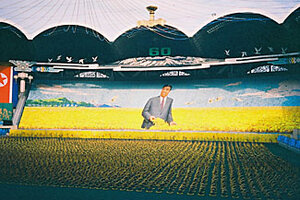 Donald Kirk
A tour guide erupts in anger when asked about the physical condition of "Dear Leader" Kim Jong Il.
"That is all foreign propaganda and lies on BBC and CNN," says Oh Keum Suk, dismissing with an angry wave the notion that Mr. Kim, said by US and South Korean intelligence sources to have been partially paralyzed by a stroke, is in anything but great health. "He is fine, excellent."
It is the height of the tourist season in this isolated capital, when foreigners are admitted on scrupulously controlled visits. Those whom visitors get to see are primed to present an image of normalcy, of progress and success, in the face of dark forces swirling about the country.
"Let us open the door of great prosperity and a powerful civilization," says the huge lettering emblazoned across one side of the stands by thousands of young people holding placards that shift from one scene or slogan to another. "Enthusiastic and optimistic era," says the next sign as thousands of costumed performers prance and pirouette below in May Day Stadium.
At the annual Arirang Festival, tourists witness an astounding display of synchronized energy involving some 100,000 people. The show goes on four nights a week for three months – each performance a 90-minute tribute to triumphs in war and development, all attributed to the leadership of Kim and his father, "Great Leader" Kim Il Sung, who died in 1994.
---