Little succor for Burma's refugees
Burmese fleeing to camps in Thailand find they get little aid or work and no legal status.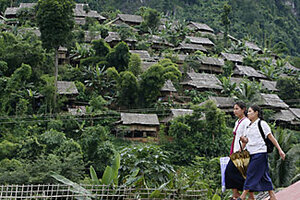 Chaiwat Subprasom/Reuters /Newscom
Myo Zaw thought freedom would begin the day he left Burma (Myanmar). Government authorities there had made it impossible for him to get a job and tracked his every movement after some of his relatives joined political resistance groups. Eventually Myo Zaw paid truckers to smuggle him out of Burma and to a hidden city, deep in the jungles of Thailand.  
That city, a sprawling refugee camp carved into the base of a mountain range about 30 miles from the border, forms part of an archipelago of camps that house political dissidents, ethnic minorities, homeless, jobless, and others who have fled.  
But instead of bringing Burmese closer to liberty, Myo Zaw and others like him say Thailand's Burmese refugee camps are little more than open-air prisons, where Thai police tightly control movements and inhabitants face a growing threat of deportation.
"If we leave the camp to work or buy grain and the Thai Army catches us, we will be deported immediately," says Myo Zaw. While Thai authorities generally do not enter the camps, refugees are prohibited from leaving them for any reason. 
According to camp officials, Thai authorities deported hundreds of refugees this summer who have ventured outside the camps for work or food. "Many have been sent back to Burma," to an uncertain fate, says Po Lay Tey, who like other camp administrators is a refugee elected by the camp dwellers. 
---