Slow recovery for Burma's cyclone victims
Aid trickles in, but locals struggle to find food before winter's harvest.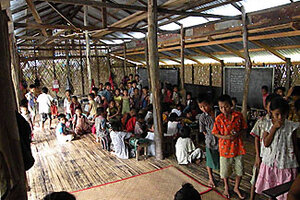 Anand Gopal
The locals say things will never be the same in Mya Sein Ken, deep in the heart of the cyclone-savaged delta in southern Burma (Myanmar). Almost 300 people vanished when cyclone Nargis struck here in May. The torrent obliterated the rice crop, and locals worry they won't have enough food to survive the fall. The storm swallowed scores of houses, leaving hundreds homeless.
"I awake every day remembering what happened," says one villager from his temporary home, donated by aid agencies. "We are living on handouts, and I don't know when we will stand on our own again."
Everywhere across the delta, Burmese are still struggling to piece together their lives. While a modest but steady flow of aid has kept locals afloat, villagers warn that their troubles are far from over.
"Nargis destroyed our food reserves," says the villager. "We need to figure out a way to survive until December's harvest."
A recent joint assessment by the United Nations and southeast Asian governments found that more than 40 percent of households in the affected areas have less than one day's worth of food on reserve.
Locals also say that the storm destroyed more than a third of the infrastructure for fishing, a major source of income and food for residents here.
Seawater flooding has rendered 40 percent of the rice paddies in the area unusable, according to villagers. "It's too early to tell to what extent December's harvest will be affected," says an official with a prominent international nongovernmental organization based in Rangoon, who asked not to be identified.
---