At the movies in North Korea: love, drama, and class warfare
The 20th annual Pyongyang International Film Festival reflects 'Dear Leader' Kim Jong Il's love of movies.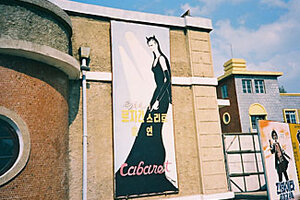 Donald Kirk
In the days when Great Leader Kim Il Sung was running the country, son Kim Jong Il was at his happiest visiting the sets and stages of the film studio on the edge of the capital.
A guide imparts this glimpse into good times enjoyed by the heir before his father died in 1994, leaving the son the responsibility for near-total power that left little time for movies.
Nonetheless, the tradition lives on. The studio here churns out 20 movies a year, and this month the government held its 20th annual Pyongyang International Film Festival: nearly two week of domestic and foreign movies mostly with themes reflecting class differences or the victory of socialist or communist forces.
"General Kim Jong Il visited the film studios over 500 times," says Chae Han Yul, showing visitors up and down streets lined with sets reminiscent of ancient villages, a European town, a South Korean nightclub district, and a Japanese street in the days when Japan ruled Korea.
"He personally had directors make such excellent films," says Mr. Chae, a senior staff member.
Mr. Kim's career as a filmmaker reached a pinnacle in the 1970s and '80s, when he routinely dictated themes and topics, selected casts as well as directors, and, quite often, assumed the role of director. "He believed in film to motivate the people," says a guide. "They were an important mass medium."
---