Asia acts to contain China's tainted milk
Japanese-brand cheesecake and cookies in Australia are among the latest products found to have melamine. Tests in China have revealed 31 more cases of contamination, the state news agency reported Wednesday.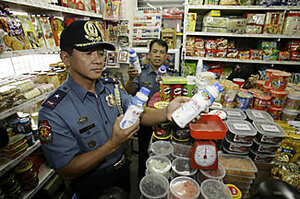 Aaron Favila/AP
China's milk scandal is rippling outward in Asia, ensnaring multinational food companies that manufacture in China and raising fresh doubts over the safety of global food supply chains.
Many of China's neighbors have already banned or recalled imported dairy products suspected of containing the chemical melamine. Tainted Chinese milk formula is blamed for the deaths of four babies and for sickening tens of thousands in a scandal that was only exposed last month after being swept under the carpet during the Beijing Olympics.
On Tuesday, authorities said that 27 people had been arrested so far in connection with the case, as Prime Minister Wen Jiabao toured dairy companies in Anhui Province and told them to improve their standards, state news agency Xinhua reported. Tests posted Wednesday on the national food safety administration's website showed 31 additional samples of milk powder were tainted, according to the Associated Press.
---