Critics slam Thailand's activist judges
Judges increasingly are calling the shots in a tumultuous political situation. Are they playing fair?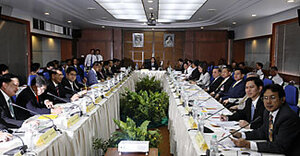 Sukree Sukplang/Reuters
Sworn in last month as Thailand's fourth prime minister in two years of turmoil, Somchai Wongsawat hasn't enjoyed much of a honeymoon on the job.
For one thing, he can't even enter his office, as a royalist protest group stormed the compound in August and refuses to leave. Instead, his cabinet meets at an unused VIP airport terminal that has been converted into offices.
Then there's the niggling matter of a lawsuit filed by a senator last week that alleges a conflict of interest in Mr. Somchai's stock portfolio. A similar complaint led to the removal last month of his predecessor Samak Sundaravej over his TV cooking show. Somchai's political party is expected to face the same court in the next few months in a campaign fraud case that could lead to its breakup, a fate handed down to a forerunner party.
As Thailand girds for the next round in its political war of attrition, many eyes are turned to the judiciary whose rulings are increasingly setting the parameters for a fragile democracy. That represents a significant break from the past in a country that is more accustomed to military coups than judicial activism in settling political disputes.
But the partiality of the bench has been called into question by politicians caught in its purview. Others gripe that excessive legal safeguards are undermining the effectiveness of government, gumming up policymaking at a time when global financial turmoil demands a steely response.
Judges' increased clout raises concerns
In a deeply polarized nation, a more muscular role for judges also raises delicate questions over their political loyalties, particularly to the influential crown.
In a widely noted speech in 2006, King Bhumibol called on senior judges to sort out a disputed parliamentary election. It was later annulled by the courts.
---