New tests: Chinese milk melamine-free
South Korean officials recall M&M's and Snickers, as China's production standards improve.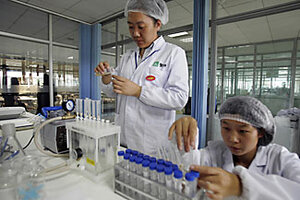 Eye Press/AP
China's widening poisoned milk scandal ensnared some of the world's top food brands Monday, as South Korean authorities recalled Chinese-made M&M's, Snickers bars, and Ritz crackers.
The products were among 10 processed foods exported from China that were found to contain traces of melamine, the toxic chemical used to adulterate powdered milk that has killed four babies in China and sickened 54,000 others.
As officials worldwide continue to check for tainted Chinese milk products, there are signs that production safety in China is improving. New government tests show that the latest batches of milk are melamine-free. Meanwhile, victims of the contaminated dairy products are beginning to take legal action.
Although the melamine levels in the goods on sale in South Korea "do not pose a big health threat ... we will take the necessary measures to ensure food safety," the South Korean Food and Drug Administration said.
In Beijing, meanwhile, the new head of the Chinese government's quality watchdog pledged "substantial changes in the production and distribution of dairy products."
Wang Yong, who became head of the General Administration of Quality Supervision, Inspection and Quarantine last month after his predecessor was fired when the melamine scandal broke, told Xinhua, the official news agency, that his staff had dispatched 1,644 inspection teams to every dairy factory in the country.
---