Will Asian financial centers overtake Wall Street?
Hong Kong is rising fast thanks to the growth of China. It passed New York as the biggest issuer of initial public offerings in 2006.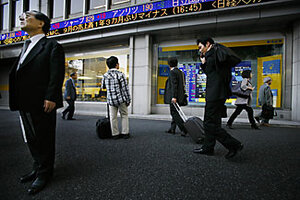 Junji Kurokawa/AP
Is Hong Kong really a financial rival to New York?
In 2006, it surpassed Wall Street in initial public offerings (IPOs).
And one morning last June, Hong Kong's Financial Services Secretary K.C. Chan made a rare trip to Moscow. Addressing an audience of Russian government officials and businessmen, he made a blunt pitch.
"Hong Kong is your best partner in reaching out to the international market," he insisted. "Hong Kong possesses strong credentials to provide quality services."
That Mr. Chan believes he can lure Russian investors away from London or New York is an indication of how Wall Street's Asian rivals have been gaining ground for some time now. As the current credit crisis brings America's and Britain's most storied financial institutions to their knees, some analysts see Asia poised to grab the influence that Wall Street is losing.
"The crisis has clearly undermined a lot of global confidence in the US as a financial center and people will begin looking elsewhere," predicts Zachary Karabell, a financial analyst and an associate fellow of the Asia Society in New York. "There has been a significant shift in mentality at the end of a period when there has already been a shift in the locus of capital and economic activity" toward Asia, he adds.
---