Indonesia fights its reputation for graft
An elite government agency is nabbing offenders in one of the world's most corrupt countries.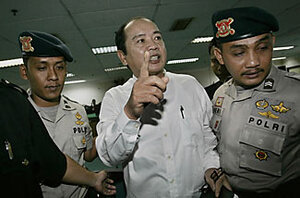 Tatan Syuflana/AP
Once a byword for corruption, Indonesia has begun to fight back against the well-connected bribers, brokers, and embezzlers who have for decades fed off its public sector.
Almost every day brings news of another arrest or trial hearing on corruption charges, and the faces of the accused are familiar: lawmakers, judges, police, and other government officials. Once ensnared, these high-fliers try to wriggle off the hook, as was so often the case during past anticorruption drives. But these days they usually find their efforts are in vain.
Last Wednesday, a court convicted former central bank governor Burhanuddin Abdullah of bribing lawmakers in 2003 to pass legislation. Several other bank officials and lawmakers are either on trial or have been named as suspects in the high-profile case.
At the forefront of Indonesia's battle with public-sector graft is the elite Corruption Eradication Commission, known as the KPK, which reports directly to President Susilo Bambang Yudhoyono. After quietly building up its manpower and expertise, with help from the United States and other foreign donors, the KPK has gone on the warpath this year, taking on powerful institutions long seen as untouchable.
Its efforts have lifted Indonesia's reputation in international surveys. Transparency International, a watchdog group that compiles a widely watched corruption index, gave Indonesia a score of 2.6 out of 10 for 2008, up from 1.9 in 2003, and ranked it 126th out of 180 countries surveyed.
This turnaround underpins an often turbulent overhaul of governance in Indonesia, the world's most populous Muslim country, since the ouster in 1998 of US-backed President Suharto. Mr. Yudhoyono took office in 2004 on an antigraft platform.
---