The Dalai Lama takes a step back
Claiming his efforts have failed, Tibet's spiritual leader said exiled Tibetans should determine the course of negotiations with Beijing.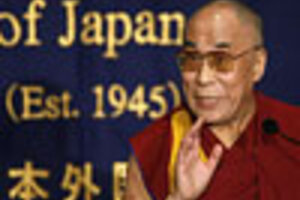 Toru Hanai/Reuters
In a blunt admission that his efforts to win autonomous status for Tibet through negotiations with Beijing have borne no fruit, the Dalai Lama said Monday he would step back from his role as political leader and let Tibetan exiles decide if a new strategy is needed.
"Things are not improving inside Tibet" despite seven rounds of talks with Chinese officials, he told reporters in Tokyo where spoke to the Foreign Correspondents Club of Japan. "Our approach has never affected the inside situation. I cannot continue like this. I have to accept failure.
"My moral responsibility now is to ask people what to do," he added. The Dalai Lama has called a meeting for later this month of Tibetan exiles worldwide. That could lead to a major change in the way Tibet's exiled government deals with China, which has ruled Tibet since 1951 when it dispatched troops to the region.
The Dalai Lama has increasingly come under fire from radical Tibetan political activists who are frustrated by his lack of success in pursuing a "middle way" strategy of seeking limited autonomy for Tibetans to practice their Buddhist religion, culture, and language.
Tibetan exile groups say they regularly receive reports from Lhasa that official repression of monks remains fierce, seven months after riots in the Tibetan capital left 22 Chinese civilians dead according to Beijing.
Two envoys of the Dalai Lama began another round of negotiations with Chinese officials this week, but the Tibetan leader said his "trust in Beijing is now thinner, thinner, thinner.
---