China aims to end pessimism with $586 billion economic stimulus package
The money may not jump-start enough domestic spending, but signals to world leaders that China is engaged in resolving the global financial crisis.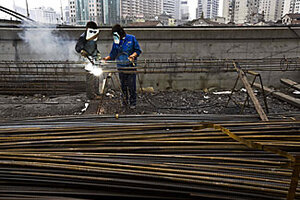 nir elias/reuters
The $586 billion economic stimulus package that China announced Sunday may not be quite as large as it seemed at first sight, but it dramatizes just how seriously the authorities in Beijing take the threat of a slowdown in the wake of the international financial crisis.
On the face of it, the package of tax cuts, higher public spending, and easier credit constitutes the largest such stimulus in history. Some of the money, though, had already been budgeted and some may even already have been spent, analysts say.
The announcement, however, "is a very clear demonstration of political intent to lean heavily into the wind of pessimism that has gripped China in recent weeks," says Daniel Rosen, an expert on the Chinese economy with the Rhodium Group in New York.
The new policy also gives President Hu Jintao something to show fellow world leaders at the Group of 20 summit in Washington Saturday as they seek ways out of the financial crisis.
"We must implement the measures to ensure fast and stable economic development," Premier Wen Jiabao told government leaders on Monday, according to state TV. "They are not only the needs of our own development but also our biggest contribution to the world."
Stock markets initially jumped on news of the package, in the hope that if China's economy continues to grow, it might help other nations weather the expected global recession by offering a market for their exports.
---