Japan's $1 trillion to the rescue?
Ahead of the G-20 summit on the financial crisis, many are eyeing Japan's huge foreign reserves. But Tokyo is reluctant to use them on struggling nations.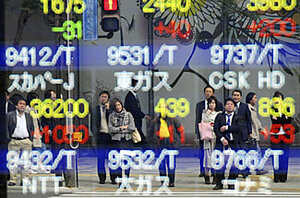 Katsumi Kasahara/AP
Can Japan, the world's second largest economy, save the global financial system?
Don't count on it.
As world leaders prepare to meet in Washington Saturday to seek a way out of the financial crisis, some are casting covetous eyes in the direction of Japan's $1 trillion worth of foreign reserves as a source of salvation for troubled nations and banks.
In Tokyo, too, a group of parliamentarians from the ruling Liberal Democratic Party (LDP) are pressing the government to spend some of its reserves – the second largest in the world – to win international prestige and diplomatic influence.
They are likely to be disappointed. The Japanese authorities say that while they are willing to lend some money to the International Monetary Fund (IMF), they would be happier offering advice born of their own financial crisis a decade ago than a lot of cold cash to today's victims.
And though Japan's financial system is weathering the crisis better than many other rich countries, a property slump and falling exports are likely to throw the economy – already heavily burdened by debt – into a recession, denting Tokyo's ability to lead the world out of the current turmoil.
The Organization for Economic Cooperation and Development (OECD) predicted Thursday that Japan's economy would shrink 0.1 percent next year, not much better than the average for its members – a 0.3 percent contraction. The US economy is expected to shrink by as much as 0.9 percent.
---