No more private school, Nepal's Maoist government declares
The former rebels plan to put all children in public schools by 2010, saying it will even the playing field.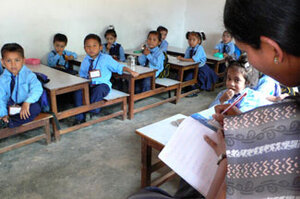 Kike Calvo/Newscom
The massive election win last April by Nepal's former rebel Maoists put them in the position to set the government agenda, and bring about drastic changes they promised during their campaign.
But their initial proposals on education – to end private investment in schools and distribute academic certificates to Maoist fighters – have left many Nepalese worried.
They're concerned that their new government will take the country in too radical a direction that favors its former fighters and Marxist-Leninist-Maoist ideology.
"Recent statements by Maoist leaders are indicative of their political immaturity," says Krishna Khanal, a political scientist at Tribhuvan University in Kathmandu. "They have made strange announcements to please their cadres and fighters."
The Communist Party of Nepal (Maoist) wields considerable legislative power to advance its policies. The group, which fought a 10-year insurgency from 1996 demanding a new constitution and an end to monarchy, is the largest party in Nepal's 601-member special assembly. With 220 seats, it has twice the representation of the second biggest party, the centrist Nepali Congress.
The government also has few moderates who might push back against a radical agenda. The Maoists' biggest alliance partner is the Communist Party of Nepal (Unified Marxist-Leninist), third largest in the assembly, which also has radical roots and a history of armed violence.
---