Few gains in Thai protesters' 'final war'
The antigovernment group swarmed the airport where the prime minister was supposed to arrive Wednesday.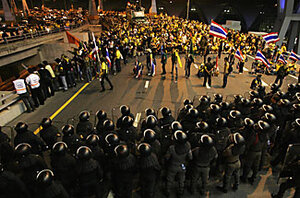 Kerek Wongsa/Reuters
Despite the increasingly violent "final showdowns" that Thailand's antigovernment protesters have carried out this week, the months-old movement appears to be losing steam.
On Tuesday, members of the People's Alliance for Democracy (PAD) clashed with government supporters and continued besieging Don Muang airport, where government officials had set up a temporary office. They also swarmed Thailand's main international airport and blocked the road to it in anticipation of Prime Minister Somchai Wongsawat's return Wednesday, forcing all departing flights to be suspended.
But the PAD's self-declared "last war" – which follows months of disruptive protests – failed to achieve its goals of compelling the government to step down or of triggering a military coup. Meanwhile, the PAD's ranks are thinning as followers weary of the prolonged turmoil.
"They've run a little dry and have become more desperate," says Thitinan Pongsudhirak, a political analyst with Thailand's Chulalongkorn University. "The longer it goes on, the more of a drain it becomes. They've been trying to close this game."
Tired protesters snoozed on tile floors at Don Muang airport Monday night. More slept on a traffic ramp outside despite blaring music.
"This has to come to a pinnacle at some point," said Soontorn Rakong, a PAD coordinator, surrounded by dozing protesters. "Win or lose? I can't say."
---