Korea's history: What text should high-schoolers read?
Conservatives want to revise high-school texts that they say are dominated by a leftist outlook.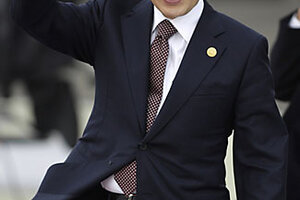 Roberto Candia/AP
Scholars and bureaucrats here are debating modern Korean history in a dispute that epitomizes differences between Korean leftists and conservatives.
At stake is whether the government should order the authors of textbooks used in secondary schools throughout the country to revise them in line with the conservative outlook of President Lee Myung Bak and his top aides as well as the Defense Ministry.
Foreign as well as Korean intellectuals have risen to the defense of the textbook authors in a statement signed by more than 660 scholars, 112 from overseas.
"It is of grave concern," says the statement submitted to the Ministry of Education, Science, and Technology, "that the current attempt to revise history textbooks appears to be driven by a specific political agenda to homogenize history textbooks, as demanded by the 'New Right' and parts of the governing group."
The statement charges that the ministry would allow "only one historical interpretation" – an approach that "leads to the repression of academic freedom in research and publication."
Chu Chin O, author of one of a half-dozen disputed textbooks and leader of a committee of textbook authors, says the government wants to put a positive spin on the country's often controversial history. "They want us to praise dictators," he charges, citing a request from the defense ministry "to rewrite passages on Chun Doo Hwan," the general who seized power after the assassination of the long-ruling Park Chung Hee in October 1979. Mr. Chun was later convicted for ordering the brutal suppression in May 1980 of a revolt in Kwangju in which 200 young people died. (Editor's note: The wrong name was given for the man convicted of suppressing the Kwangju massacre.)
---
Follow Stories Like This
Get the Monitor stories you care about delivered to your inbox.