Ruling party must disband, Thai court orders
Antigovernment protesters cheered Tuesday's verdict and agreed to end a week-long airport blockade.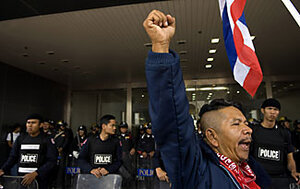 Andy Nelson/The Christian Science Monitor
Thailand's Constitutional Court ordered Tuesday the dissolution of the ruling People's Power Party (PPP) for electoral fraud, sealing the fate of embattled Prime Minister Somchai Wongsawat.
Antigovernment protesters cheered the verdict. They said they would end their blockade of Bangkok's two airports, whose week-long closure has decimated the country's tourism industry. They also began to vacate the prime minister's compound, which they had seized in August and turned into a protest camp.
But the verdict won't necessarily end the antigovernment People's Alliance for Democracy's (PAD) six-month campaign. Instead it pitches an increasingly lawless divided country into another period of uncertainty as lawmakers try to set up a new government.
"This [court ruling] doesn't really take Thailand back from the brink," says Michael Montesano, a research fellow at the Institute of Southeast Asian Studies in Singapore.
PAD activists insist that a root-and-branch reform of the political system is necessary to cleanse it of corruption and dilute the voice of uneducated rural voters. Much of their venom is directed at former Prime Minister Thaksin Shinawatra, whose loyalists in parliament rely on the support of the poor. He was removed by a coup in 2006 and later barred from office.
---