In China, empty office spaces fill the sky
The global credit meltdown and Shanghai's slowing economy are chasing away big-time renters from the world's second-tallest building.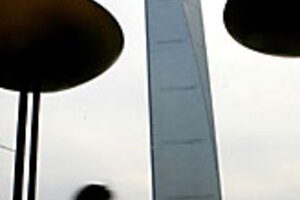 Xinhua/newscom
As dusk falls on Shanghai's futuristic skyline, spotlights blaze on its newest and tallest landmark. Fairy lights dance around the trapezoid opening at the top of the Shanghai World Financial Center (SWFC). Depending on where you stand, the Japanese-designed tower, the world's second tallest, looks like a giant bottle opener or a knife slicing the foggy skies.
But behind the glitter is an awkward truth: The lights are on, but almost nobody is home.
A global credit meltdown and a slowing domestic economy conspired to ruin the coming-out party for this and other newly built skyscrapers, part of a Chinese real-estate boom that has lost its allure. New homes lack buyers and high-rise offices lack renters, depressing prices and forcing developers in Shanghai and other cities to mothball projects as financing dries up.
Since October, China's government has responded by slashing interest rates, sweetening mortgage terms, and adding low-cost housing to its two-year economic stimulus plan. Authorities are also arm-twisting banks to keep lending to domestic industries.
But a glut of completed commercial and residential property will likely prove hard to shift in a climate of caution. Nor does the stimulus package offer much relief for real-estate companies exposed to the sudden downturn.
"Some developers will definitely go bankrupt. It happened before. The government will probably want bigger companies to take the [failing] companies over," says Vincent Gu, assistant general manager of property sales at K Wah Investment, a real-estate developer in Shanghai.
---