Recession hits Japan's part-time workers
Sony said Tuesday it will let 16,000 employees go – half of them from its temporary staff.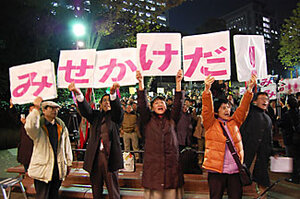 Takehiko Kambayashi
In a country once famous for offering employees lifelong job security, Japan is struggling with rising unemployment as its recession deepens and top companies like Toyota and Sony cut costs.
From government leaders to antipoverty activists, many people worry that a burgeoning class of contingent (part-time or contract) workers – which came into existence only some 20 years ago – will bear the brunt of job losses.
More than 30,000 of them have lost or will lose their jobs from October to next March, a recent government survey shows.
Major automakers recently announced that they would slash the number of contingent employees due to slow sales. Toyota reports that its number will fall from 9,200 early this year to 3,000 by the end of next March. Mitsubishi Motors Corp. says it will not renew 1,100 contract staff from now until next March. Mazda Motor Corp. is eliminating 1,300 temporary jobs.
Meanwhile, Sony, the world's second-largest maker of consumer electronics, announced Tuesday it would cut 8,000 temporary and contract staff alongside 8,000 regular workers.
Employment situations "could become very serious. Those on contract will be kicked out of a company's dormitory once their term expires," says Ken Kikuchi, a labor union member. "Setting up hotlines, we got swamped with calls from those who have already lost a job or fear they could."
---