Mieko Kawakami: From blogger to global novelist
Her latest novel won Japan's top prize for new fiction writers. Kawakami is one of an emerging group of young Japanese women writers.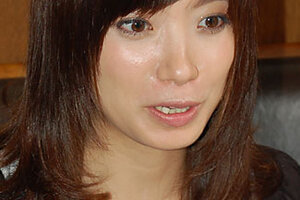 Amelia Newcomb/The Christian Science Monitor
Mieko Kawakami hops off her bicycle outside Tokyo's Mamehiko cafe and heads in for some iced tea and conversation. Casually dressed in a jean vest and flouncy skirt, she appears unrushed, despite being one of the most sought-after young authors in Japan this year. When a young man recognizes her, she happily chats briefly with him about the play he is writing.
Ms. Kawakami says that writing hit her life suddenly – much like a traffic collision. A singer and songwriter, she turned to poetry and blogging– not unusual in a country that leads the world with 1.5 million daily blog postings, and whose authors have been adept at parlaying Internet exposure into literary success.
Her first novel was formed from her blogs. Her fourth, "Breasts and Egg," was tapped for the Akutagawa Prize, Japan's top award for new fiction writers. That put her in the company of such internationally renowned authors as Haruki Murakami, whose work includes "The Wind-Up Bird Chronicle" and "Norwegian Wood."
Kawakami, whose work has been translated into Korean, German, and Chinese (but not yet English), is part of an edgy and unconventional generation of female writers who are tackling women's stories of marriage, divorce, friendship – and finding a receptive audience at home and abroad.
Interest in their work could be a small silver lining of Japan's "lost decade," whose economic doldrums upended long-standing social roles. In the process, says Rolands Kelts, author of "Japanamerica: How Japanese Pop Culture Has Invaded the U.S.," another phenomenon developed: women unencumbered by traditional expectations and eager to tell stories once sidelined by establishment culture. They were also adept at tapping into new technologies – such as blogs and cellphones – to share them.
---