Japan quietly seeks global leadership niches
The island nation seeks to carve out a bigger role in world affairs as a 'soft power.'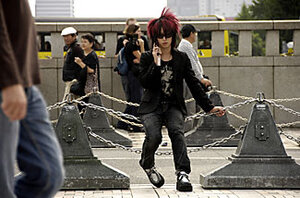 Andy Nelson/The Christian Science Monitor
In the 1980s, the buzz here was about "Japan bashing" – the biting criticism of a country that was eviscerating America's postwar industrial dominance. This is still the world's second-biggest economy. But more recently, Japanese have spoken in bemused terms about "Japan passing" – shorthand for a country feeling overshadowed by a rising China and India.
Japan's meteoric economic rise never led to a parallel surge in diplomatic clout. But today, as a pacesetter in everything from green cars to pop culture, it seeks to carve out a bigger role in world affairs as a "soft power."
The country has had remarkable success in shifting the one-dimensional perception of Japan Inc. to a multifaceted image that many in the industrialized world are now hastening to emulate in key areas like energy innovation. Still, Japan's new emergence is closely tied to its ability to reform its domestic political structure and speak more surely on the international diplomatic stage – something far from certain at this juncture.
"Japan used to be [just] an economic superpower," says Michael Auslin, a resident scholar at the American Enterprise Institute in Washington. "Now it talks about being a social superpower. Japanese say, 'We're First World, but what kind of power are we?' "
---