A Chinese peasant goes to town on capitalism
A villager from western China, Qi Xuewu headed east in search of a better life, joining 140 million ambitious migrant workers.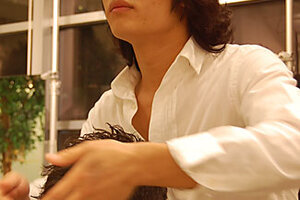 Peter Ford/The Christian Science Monitor
China has been transformed beyond recognition since the ruling Communist party decided 30 years ago this week to abandon Maoism, build a market economy, and dismantle the "bamboo curtain" that had isolated the country from most of the world. This series explores what "reform and opening" has meant to the everyday lives of six individuals.
SHENZHEN, CHINA – It is hard to imagine Qi Xuewu, with his flowing locks, immaculately pleated shirt front, pinstripe trousers, and patent leather loafers, as a cotton farmer.
Mr. Qi could not imagine himself as a cotton farmer either. After laboring for only 18 months in his father's fields near China's border with Kazakhstan he packed his bags in 1999 and like 140 million other migrant workers, set off in search of a better life.
Qi, however, had no intention of following his fellow villagers who had "gone out" to construction sites and sweatshops on China's booming east coast. Setting his sights higher, he went to hairdressing school, which he saw as a passport to freedom.
"I knew that if I learned to become a really good stylist I could go anywhere in China with my scissors, and nobody could stop me," he says, tossing his fashionably cut hair out of his eyes.
It worked. Today, after snipping and blow-drying his way up through a series of less classy joints, 29-year-old Qi works at one of the most upscale hair salons in Shenzhen, China's fastest growing city and a showcase of the "reform and opening" policy.
---