China extends a friendly bear paw across Taiwan Strait
Beijing marked warming ties with Taiwan by sending two pandas, Tuan Tuan and Yuan Yuan, to the Taipei Zoo.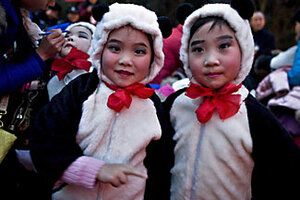 Nir Elias/Reuters
There's economy class. There's business class. And then there's "giant panda" class – featuring temperatures of 18 to 20 degrees Celsius, all-you-can-eat cornbread and bamboo, and panda-sized doses of motion sickness pills.
Those were some of the services provided for two giant pandas transported by airplane Tuesday from China to Taiwan. In a symbolic move of "panda diplomacy," Beijing marked warming cross-strait ties with the furry gifts, amid fanfare and a media frenzy.
China sees self-ruled Taiwan as part of its territory awaiting unification, by force if need be. So some in Taiwan fret about the gift's political overtones, saying the bears are unwitting (if cute and cuddly) pawns in Beijing's unification agenda.
Beijing's names for the pandas – Tuan Tuan and Yuan Yuan, which together mean "reunion" – do little to allay such concerns.
"The Chinese leadership is working very hard to win the hearts of the Taiwanese people, and pandas are one of the more prominent gestures," said Joseph Cheng, a political scientist at City University of Hong Kong. "That's why you see a playing-up of the whole episode."
But politics was drowned out today by panda fever, with a barrage of Internet commentary and breathless coverage in Taiwan, Hong Kong, and Chinese state-run media.
---