China projects naval power in pirate fight
Its warships and special forces are due in the Gulf of Aden by Jan. 6.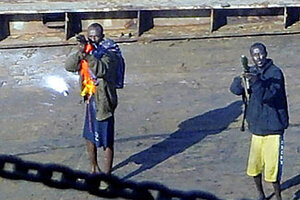 Xinhua/AP
China's dispatch of two warships to help battle Somalian pirates has drawn an ambivalent global reaction – a sign of the decidedly mixed feelings toward its bid for big-power status.
Two destroyers and a supply ship steamed out of a southern Chinese port Friday, on China's first patrol and potential combat mission beyond Chinese waters. The ships are due to reach the Gulf of Aden by Jan. 6 and carry 870 crew members, including 70 elite Navy special forces trained in close combat and helicopter-borne raids, according to the China Daily newspaper.
Two days earlier, a Chinese defense official, at a rare press conference, gave one of the clearest indications yet that China plans to build an aircraft carrier.
The developments reflect China's determination to boost its sea power, in line with its rising economic and political clout.
"Now we have more overseas interests and activities, so that's why we need a stronger force on the oceans," says Peng Guangqian, a military expert in Beijing.
The United States frets about how a bulked-up Chinese Navy might complicate a Taiwan conflict scenario. But it welcomed the decision to join amultinational naval "posse" battling Somalian brigands, who have turned waters off east Africa into a hazardous pirates' alley and wreaked havoc on world trade. Still, some of China's Asian neighbors have expressed concern about its naval muscle-flexing.
---