China: Lunar New Year without a bribe?
The Communist Party speaks sharply – yet again – in a bid to curtail flourishing seasonal corruption.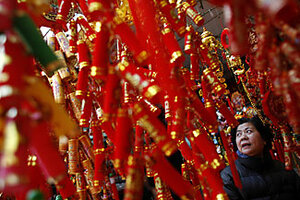 Aly Song/Reuters
Spare a thought, as Chinese New Year approaches, for Song Yuanfang.
The Communist Party boss in the eastern town of Liaocheng, Mr. Song could have expected a generous holiday gift from a local gas distribution company, according to his entry in that company's "2009 Public Relations Maintenance Budget," which somebody leaked this week on the Internet.
The document's publication presumably forestalled that particular bribe. But elsewhere in China, corruption is flourishing with special seasonal vigor.
The Lunar New Year is China's biggest holiday, and according to a recent article in the People's Daily, the ruling Communist Party's mouthpiece, "more than 80 percent of corruption cases occur during the holidays."
That, the paper explained, is because "some officials normally alert to bribery relax their vigilance in a happy and joyful atmosphere and accept gifts. Then they cannot stop themselves, and slide into the criminal abyss."
The New Year, at which gift-giving is traditional not only among family members but also between business contacts, offers ideal cover for bribery, of course. Whose eyebrows are raised by the offer of a holiday present?
The same sort of problem arises at the Mid-Autumn Festival, when Chinese give each other "moon cakes." So elaborate had the "accessories" included with the cakes become – watches and cellphones were popular – that two years ago the government imposed rules stipulating that packaging and accessories should not be worth more than 25 percent of the value of the moon cakes themselves.
This year, with an economic downturn clouding the New Year atmosphere, and millions of Chinese losing their jobs, the authorities recently issued guidelines on how government and Communist Party officials should behave over the holiday season.
---