N. Korea strident as Obama takes reins
The North claimed to have weaponized plutonium and said its nuclear status would not change. But analysts see bid for attention.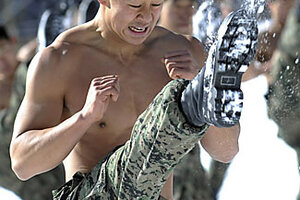 Jun Jin-Hwan/Newsis/Reuters
Behind an outpouring of strident rhetoric from North Korea ahead of President-elect Barack Obama's inauguration lies a crying need for attention – and recognition of the country's status as a bargaining partner and nuclear power, say analysts here.
North Korea has chosen singularly harsh language to get its points across as a new US administration takes over.
A North Korean Foreign Ministry spokesman declared last weekend, "Our status as a nuclear weapons state will never founder as long as the US nuclear threat remains, even a bit" – appearing to reverse an agreement nearly two years ago to abandon its nuclear weapons program.
North Korean diplomats also told Selig Harrison, an American just back from North Korea who has a long record of criticizing US policy, that the North had "weaponized 30.8 kilograms of plutonium" – enough for five of the six to 12 warheads that US intelligence analysts suspect the North has already fabricated.
The message from North Korea's leader, Kim Jong Il, says Kim Tae-woo, vice president of the Korea Institute For Defense Analyses, is: " 'Please don't push us into a corner, don't expect us to drop our nuclear weapons – and let's have better relations.' Internally, Kim Jong Il is saying, 'I'm still strong,' " despite reports that he suffered a stroke last August.
---