In China, a rush to get home for New Year's
Millions – many now jobless – pack the railways during the world's largest annual migration.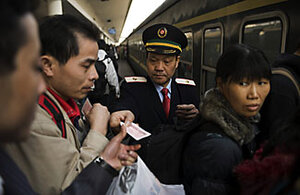 Andy Nelson/The Christian Science Monitor
Hey, you want to know how to get on the train you want?" a white-suited man with a salesman's grin asks as he gives me a nudge.
It's a week before Chinese New Year, and the railway station in Shenzhen, like many across China, is filled with people hurrying home for the year's biggest holiday – or still trying to buy a ticket.
This year 188 million Spring Festival travelers are expected to come and go by train, the government estimates, in the world's largest annual migration.
Shenzhen's is not the busiest station in China, yet nearly 100,000 travelers have come through here daily ahead of the New Year on Jan. 26. Even at midnight, they stream toward the station from every direction, unloading from buses and pouring from the subway. Some wheel suitcases; others carry nylon luggage or buckets. A few balance bags on either end of a shoulder stick.
President Hu Jintao himself has urged a smooth "Spring Rush," and railway staff, police, plainclothesmen, and soldiers are out in force to make that happen.
It's certainly a concern here in Guangdong Province, China's factory heartland. The global economic crisis has hit manufacturers hard and forced many migrant laborers out of work. Some 600,000 have headed home early, jobless.
We've put out more police, an officer tells me. We're afraid people might be upset because of the economic situation.
Downturn aside, migrants have reason to be frustrated. Simply getting a ticket home can be at least a full-time job. Some try for days, even sleep at the station overnight. Earlier this month an elderly man in Hangzhou, a city near Shanghai, died while waiting in line. (The Ministry of Railways claimed he was using the place to sleep.)
---