Migrant workers struggle as China's factories slow
The global recession is shuttering manufacturers and pushing millions out of work or into lower wages.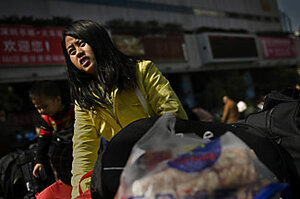 Andy Nelson/The Christian Science Monitor
For Mr. Duan, Chinese New Year is just more unwanted time off.
Two factories in four months have told him – and many other migrant workers here – to take an indefinite, unpaid "vacation."
"I'm not hopeful work will pick up," the young man says. He'll spend the holiday at his village 400 miles away, giving fewer gifts while figuring out his next steps.
At dusk in this factory city, just ahead of the Lunar New Year, neighbors chitchat on the street, brimming with news of more factory closures and rumors of layoffs to come. Some women walk home in groups, while others head out for their night shift.
The workers who powered China's meteoric rise as the world's factory are under pressures few could have imagined just a year ago. Conditions were often difficult and vacations short, but workers could thrive relative to peasants in the countryside – and send money home.
Now, the global recession is shuttering manufacturers and pushing millions of laborers out of work or into lower wages. Chinese leaders are struggling to balance the desire to help workers quickly with the need to avoid damaging long-term growth by rescuing failing industries or building bridges to nowhere. And they're keeping a keen eye on stability in a society where the gaps between haves and have-nots has widened sharply.
"In this coming year, especially in the [first half], China is facing the biggest challenge it's faced certainly for 20 years," says Kenneth Lieberthal, a China expert at the Brookings Institution in Washington.
Layoffs' ripple effects
China's economic growth slowed to a seven-year low of 6.8 percent last quarter, dragging 2008 growth down to 9 percent, from 13 percent the year before.
---