China cracks down on human rights lawyers
A Beijing firm known for defending famous activists is told to close. Attorneys elsewhere have been detained or tried.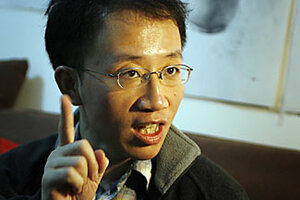 Newscom
One of China's most prominent human rights law firms is fighting a government closure order, as authorities here step up a crackdown on troublesome lawyers.
At a hearing next week the Yitong law firm, which has been at the center of several high-profile political cases, will appeal a ruling by a local Justice Department in Beijing suspending the practice for six months, according to managing partner Li Jinsong.
"That would kill the firm," says Mr. Li. "They are distorting facts ... to get revenge" for the way the firm's lawyers have criticized or defied government agencies, he charges.
The closure order, which activists here say is unlikely to be overturned at the hearing, is part of "a wider effort to stifle and intimidate lawyers who aspire to defend human rights and the public interest," says Albert Ho, chairman of the China Human Rights Lawyers Concern Group in Hong Kong. "This is really a very serious matter."
The Yitong partnership is well known for having represented some of China's most famous dissidents, including Hu Jia, an AIDS activist who received the European Parliament's top human rights award last year and is now serving a three-year sentence for inciting subversion.
---