Skiing 'with Chinese characteristics?'
A resort in hilly Hebei Province, northwest of Beijing, offers unexpectedly long and enjoyable runs – not to mention a Swiss chalet hung with Chinese lanterns.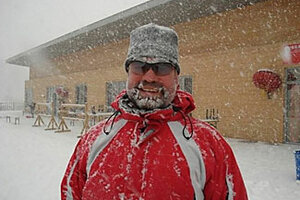 Courtesy of Peter Ford
Of all the unexpected lessons I have learned about China since arriving here two years ago, one of the most gratifying is that you can ski here.
Skiing is perhaps my most prized pleasure; one of the luxuries of my last posting in Paris was to spend a winter week in the Alps descending – generally rather inelegantly – some of the world's most spectacular slopes.
Hebei, a hilly province northwest of Beijing, is not the Alps. It doesn't snow here often, one of the first aspects of "skiing with Chinese characteristics" that you must appreciate: The runs are generally covered with artificial snow.
Hebei is dry at the best of times, as Beijing drains much of its water. This winter, it is undergoing its worst drought for 50 years, and I can only imagine what local farmers think about using scarce water to make "snow" for wealthy madmen to slide down. (The Chinese term for "to ski," by the way, is to "slide snow.")
As if to remind you how environmentally unfriendly you are being by skiing here, the pistes are often a pale beige, regularly dusted as they are by fine sand blown in from the nearby Gobi Desert.
My conscience was assuaged, however, and my eyes delighted, by a heavy snowstorm while I was skiing last week at the Wanlong (10,000 Dragon) resort, which is less than a decade old. The hills were blanketed by fresh, natural powder, though it was unclear how naturally it had fallen: The government has been seeding clouds over Hebei with silver iodide pellets to provoke precipitation.
---