In Thailand, populist protesters turn the tables on the government
Thousands of supporters of former Prime Minister Thaksin Shinawatra seek to topple the government that itself came to power after mass demonstrations.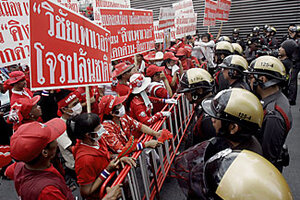 Apichart Weerawong/AP
By day, the red-clad crowds thin under a broiling sun. By nightfall, they arrive in their thousands for another night of fiery antigovernment speeches, spicy snacks, and twangy country music.
Like night following day, the latest Thai protests are a reaction to the fall of a government last December amid chaotic demonstrations by royalists wearing yellow. This time, the color theme is tomato red. And, once again, vengeful crowds have surrounded the prime minister's compound to demand his resignation, threatening to pitch a divided, weary nation back into an all-out battle for political supremacy.
So far, the weeklong protests have been peaceful. Organizers defied a court order to end their blockade, but haven't sought to break into the compound, as their opponents did last year. On the perimeter walls, artists have put their spin on the political drama, lampooning Prime Minister Abhisit Vejjajiva and the royalist protesters who enabled his takeover, which was sealed by a controversial judicial ruling.
The most popular images in the protest camp, though, are of former Prime Minister Thaksin Shinawatra, who was deposed by a military coup in 2006 and is now living in exile in Dubai, wanted at home on a corruption-related conviction.
Many protesters are stirred by a broad set of grievances, including economic hardship in a quickening recession. But the fate of their former leader is a unifying battle cry.
"If he comes back, everything will be OK. Thaksin is No. 1. We never had a prime minister like him," says Amporn Paiboonbudsarakham, a cosmetics saleswoman.
Mr. Thaksin has galvanized the crowd with nightly speeches carried by video-link. This tactic, used in recent months before similar gatherings around the country, has forced the government onto the defensive. Organizers say that a larger rally will be held in Bangkok on April 8, on the eve of an annual summit for Asian leaders that Mr. Abhisit will chair in the resort town of Pattaya.
---
Follow Stories Like This
Get the Monitor stories you care about delivered to your inbox.