Obama said N. Korea 'broke the rules.' Now what?
N. Korea's missile launch Sunday complicates the long-term strategy of the US and her Asian allies toward Pyongyang's nuclear program.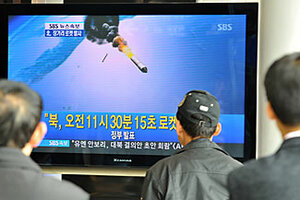 AFP/Newscom
North Korea's successful rocket launch Sunday - despite the failure to orbit a satellite – boosts the rogue state's chances of one day building a nuclear-tipped Intercontinental Ballistic Missile. But it leaves the US and her Asian allies in a quandary over their long-term strategy toward Pyongyang.
South Korea 's YTN network said that North Korea had demonstrated itsability to fire a missile 2,000 miles – a significant step towardrealizing the capability of delivering a warhead as far as Alaska ,Hawaii or the west coast of the US.
Japan called an emergency United Nations Security Council meeting for Sunday afternoon, threatening new sanctions against Pyongyang. President Barack Obama, in Prague for a summit on nuclear proliferation, singled out Pyongyang in a speech about the urgent need for a ban against nuclear weapons testing.
"North Korea broke the rules once more by testing a rocket that could be used for a long-range missile," Obama said. "This provocation underscores the need for action — not just this afternoon at the UN Security Council, but in our determination to prevent the spread of these weapons."
---