American journalists could be bargaining chips for North Korea
A documentary critical of the North, filmed by a family member of one of the journalists, could complicate their case.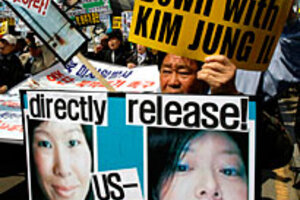 Lee Jin-man/AP
When they were nabbed by North Korean guards along China's northeastern Tumen River border with North Korea, reporters Laura Ling and Euna Lee were filming for Al Gore's Current TV network on an especially sensitive topic: the flight of North Korean defectors from the horrors of starvation, disease, jailing, torture and beatings.
Now, detained by the regime whose brutality they were trying to report, their documentary work could make their case extremely problematic. When or whether North Korean authorities will want to release the two is far from clear. Their ordeal has become all the more politicized after a stunning series of events this month reversed several years of painstaking progress on getting the North to agree to denuclearization.
"North Korea is waiting for the maximum leverage," says Tim Peters, a pastor whose organization, "Helping Hands Korea," has worked for years with North Korean defectors here and in China along the Tumen River border. "They will put them on trial and get as much mileage for some kind of diplomatic advantage."
---