Obama drug policy encourages activists in developing world
At Bangkok meeting, they cheer support for needle exchanges but urge further steps toward 'harm reduction.'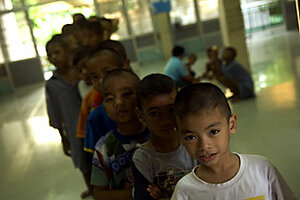 Andy Nelson/The Christian Science Monitor/FILE
Policymakers around the world have been watching closely as a new United States administration sets out its strategies on a variety of global challenges. And in the field of international public health, President Obama's policy choices are causing a stir among those who treat drug addiction.
Reversing a decades-old policy, the Obama White House has approved federal funding of needle and syringe exchanges, which have been pioneered in liberal cities like Seattle. The police chief there, Gil Kerlikowske, is expected to be confirmed next month as national drug czar.
The shift in US policy is broadly welcomed by advocates of "harm reduction," an approach to drug use that puts public health and education before law enforcement. They see the changes as a vital step by a country that for decades has viewed illegal drugs almost exclusively through the lens of prohibition.
"The US has been a big block on harm reduction at the international political level.... It's beginning to change, and it's changed quite suddenly," says Gerry Stimson, executive director of the International Harm Reduction Association, which is holding its annual conference this week in Bangkok.
Proponents of harm reduction want to see the US go much further in overhauling its drug policy. Equally crucial, they say, is US support for international programs in developing countries where millions of injecting drug users (IDUs) are at risk of contracting HIV/AIDS, slowing other recent gains in fighting the disease.
---