Tiananmen Anniversary: Memory of executed poet resonates
Lin Zhao, who was executed in 1968, challenged history and Mao.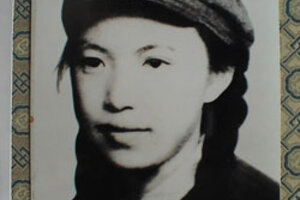 COURTESY OF HU JIE
It was hard not to think of poet Lin Zhao when I heard about Charter 08 in China. The charter is a sweeping petition for democracy, civil reform, and to "end the practice of viewing words as crimes."
It was signed by 2,000 brave and quixotic Chinese in December – and then seemed to be quashed. But no: It is gaining traction on the Internet; even some Chinese officials have raised the question of democracy and the party's absolute hold on power.
Lin Zhao asked the same question – in the time of Mao Zedong. I discovered Ms. Lin – an extraordinary individual by any reckoning – in my last months as a Monitor correspondent in Beijing. She was a prophetic voice, a thinker, a Vaclav Havel of China who believed deeply in the reality of what she called "truth."
She was executed in 1968 at the age of 36, probably by the order of Mao. She remains virtually unknown in her country.
Lin's main insight was that Mao, to put it mildly, was not serving the people. Her prison writings during the Cultural Revolution may constitute the most incisive critique of "Red China" extant; they remain forbidden, kept under lock and key at a Beijing archive.
"She was rehabilitated in the late 1970s, during a thaw, but I don't think [today] she would be," the intellectual Li Datong told me. "In her day, Lin alone marked Mao as a big rotten egg, so she was way ahead of her time. Hers was the deepest accusation of the Communist Party written in the 60 years of its history. So this government will make sure we never hear from her fully."
---