China quake: From rubble, civil society builds
Volunteerism stands strong one year later – and has even won support from local authorities normally wary of grass-roots movements.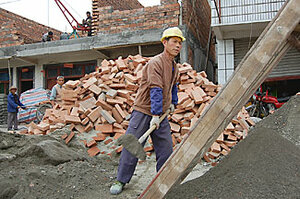 Peter Ford / The Christian Science Monitor
When the Sichuan earthquake hit her mountain village a year ago, recalls young mother Wang Hong, her instinct said that her daughter had been killed at kindergarten.
She was wrong, though, and two days later Chinese soldiers and her mother-in-law helped Ms. Wang carry her little girl down the mountain to safety. "I felt so lucky and grateful that I didn't even cry," Wang says.
Instead she became a volunteer. Today she is in charge of bathing dozens of children in the temporary housing camp where she lives, and teaching the children's parents the rudiments of healthcare.
Her program is run by the international charity Save the Children. "I just felt so touched when I heard that name, I volunteered out of gratitude," Wang explains.
Wang has very personal reasons for her newfound sense of public spiritedness. But she is not alone.
"We almost always have to turn people away," says Frank Dunne, whose Earthquake Resource Center in Chengdu, Sichuan's capital, organizes paying volunteers into weekend reconstruction teams. "College students especially don't seem to have lost any enthusiasm for getting out there."
Last year's earthquake, which provoked a tsunami of sudden sympathy and solidarity in China, has proved to be the catalyst for deeper social changes. "It has strengthened a sense of civil society," says Han Junkui, who has studied activity by nongovernmental organizations (NGOs) in Sichuan over the past year. "Society's enthusiasm for earthquake-hit areas has changed from a passionate attitude to a rational one... The level of enthusiasm does not compare with a year ago, but it definitely still exists."
---