China quake: one year on, still rebuilding
Survivors make do with plywood, donations, and stoicism. Some enjoy new homes.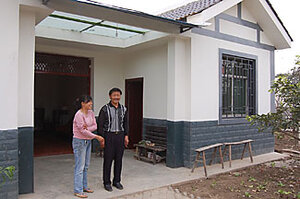 Peter Ford/The Christian Science Monitor
"Welcome to our disaster zone," says Dong Jian with a wry smile as he stands in the playground of the village school here – transformed since last year's earthquake into Spartan living quarters for survivors.
Nearly 12 months on, aftershocks still tremble regularly in this remote spot, hemmed in by forested mountains. But the temblors are small enough, or perhaps Mr. Dong has become accustomed enough, that he is building himself a new family home.
So are several hundred thousand other peasant farmers the length and breadth of the earthquake zone. Where the roads in this region were blocked a year ago by piles of rubble, today they are often obstructed by piles of new bricks, heaps of sand and cement, or stacks of re-bar
On larger construction sites around the province, government contractors are racing against the ambitious official deadline – that all earthquake victims should be re-housed by the second anniversary of the quake, May 12, 2010.
"We are very close to victory," claims Sun Ming, deputy director of the construction committee in the provincial capital, Chengdu.
That optimism masks the enormous range of circumstances in which earthquake survivors are living one year after they fled their homes just after lunch on May 12, 2008, when a 7.9-magnitude earthquake killed almost 90,000 people and forced 15 million to sleep in the streets.
Depending on the efficiency of their local government, their location, and their personal circumstances, they could still be cramped into an emergency tent protected by a makeshift shell of thin plywood. They could be making do in a barracks-like temporary housing camp, as well over one million residents are currently doing. Or they could be enjoying the comforts of a brand new bungalow with a biogas-fueled stove.
---