Suu Kyi trial in Burma (Myanmar) highlights activist's limited power
The regime allowed journalists and diplomats to watch the trial as it entered its third day.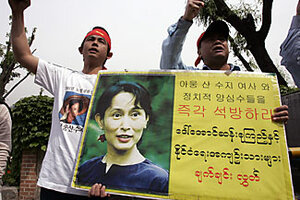 Jo Yong-Hak/Reuters
By now, the junta that governs Burma (Myanmar) is accustomed to the din of international outrage that follows each new incrimination of Aung San Suu Kyi.
The latest has the pro-democracy icon in an ongoing trial inside Burma's notorious Insein Prison. She's charged with briefly sheltering an American admirer who donned makeshift flippers and swam to her lakeshore home, where she has lived under house arrest for 13 of the past 19 years.
The trial has revitalized Ms. Suu Kyi's power to elicit sympathy worldwide for Burma's suppressed democracy movement. But it has also highlighted the difficulty of translating that moral authority into political reform.
"Especially in the West, they love this image of Suu Kyi. But Burma has proved it can withstand international pressure," says Pavin Chachavalpongpun, a visiting researcher at the Institute of Southeast Asian Studies in Singapore.
Sentence was set to expire
Suu Kyi's latest charges come less than two weeks before her current sentence was set to expire. Supporters had been publicly doubting whether she would be released on May 27 as scheduled.
The junta needed a new excuse to muzzle Suu Kyi in advance of 2010 elections, which will probably be staged, says Mr Chachavalpongpun, echoing a widely held view.
---