China guts budding civil rights movement
Authorities have effectively disbarred 20 key lawyers who defended Tibetans, Falun Gong members, and other politically sensitive clients.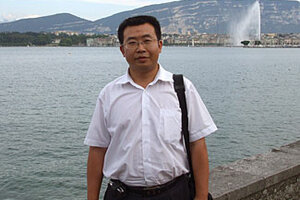 Jiang Tianyong/AP
Twenty of China's most courageous and outspoken civil rights lawyers face being disbarred next Monday, as judicial authorities reject or delay their applications to renew their professional licenses, according to three of the lawyers affected.
Forbidding them to practice after a May 31 deadline would, at a stroke, decapitate the budding "rights protection movement" that is at the heart of activists' efforts to build a civil society in China.
"If these 20 lose their licenses it would be the biggest step back in legal reform for 20 years," warns Nicholas Bequelin, a researcher with Human Rights Watch based in Hong Kong. "It would be really very dramatic."
The lawyers who have reported problems having their annual licenses renewed have all represented plaintiffs or defendants in politically sensitive cases over the past year, such as members of the banned Falun Gong religious group, parents of children killed at their school desks in the Sichuan earthquake last May, and people arrested in the March 2008 crackdown in Tibet.
What they have in common, says Jiang Tianyong, who recently successfully represented a Tibetan monk charged with concealing weapons, is that "we do not take orders from the [government's] Judicial Affairs Bureau" about which cases to take.
---