North Korea to put US journalists on trial Thursday
Laura Ling and Euna Lee, nabbed along the Chinese-North Korean border, have become players in a much larger drama.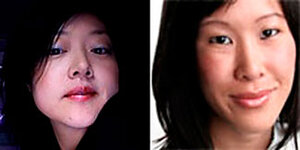 Yonhap/AP/File
Like a subplot in a great drama, two American journalists go on trial in the North Korean capital of Pyongyang on Thursday, even as North Korea prepares for more tests of its long-range missile and possibly another nuclear test as well.
The great question is the degree to which Laura Ling and Euna Lee have unwittingly become pawns in a huge bargaining game since North Korean soldiers picked them up on March 17 as they were filming along China's Tumen River border with North Korea.
"The trial depends on how useful the North Korean regime feels they are for political purposes," says Ha Tae-keung, president of Open Radio for North Korea, which broadcasts from Seoul, South Korea, for two hours daily into North Korea.
However North Korean strategists see it, one outcome of the trial is certain. No one imagines anything other than a guilty verdict for both of them, accused of "hostile acts" and "illegal entry" as they sought to do a story on human rights abuses. The two journalists work for Al Gore's Current TV network.
The focal point of their mission was to interview female defectors, often forced into marriages and prostitution in China, and they were believed to be hoping to film defectors as they crossed the ice on the narrow, shallow river in harsh winter weather.
One-day trial likely
No one expects, however, that the record of the trial will become public or that witnesses will come forward to provide evidence to show that they had not entered North Korea at the time of their arrest, but were either on the ice or on the Chinese side.
---