US weighs options to free journalists in North Korea
A tougher stance toward Pyongyang may complicate efforts to negotiate the release of the two women, who were sentenced Monday to 12 years of hard labor.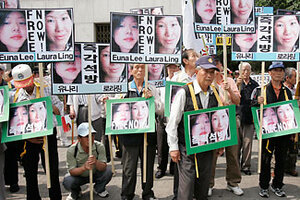 Jo Yong-Hak/REUTERS
The sentence of 12 years of hard labor for two American journalists in North Korea opens a new chapter in efforts at winning their release.
Analysts in Washington and Seoul agree on that much, after Pyongyang's Korean Central News Agency said Laura Ling and Euna Lee would undergo "reform through labor" for having entered North Korea illegally while reporting for San Francisco-based Current TV along the Tumen River border with China.
The real question, though, is whether the North would be willing to talk further about their fates in a period of worsening confrontation between North Korea and the United States and between North and South Korea.
The two were seized by North Korean soldiers on March 17 and have been held in what's described by the Swedish ambassador to North Korea, representing US interests there, as a "state guest house" near Pyongyang. But their whereabouts since their trial last Thursday is not known.
---