Why China has clenched its fist in Xinjiang
Beijing's severe treatment of Uighurs – and Tibetans, too – may be an attempt to prevent a breakup similar to that of the Soviet Union.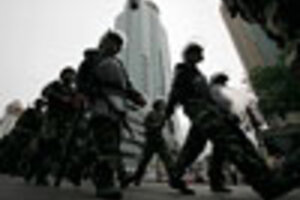 Eugene Hoshiko/AP
This week's ethnic violence in Urumqi, the capital of China's far western Xinjiang region, rang a second warning bell for Beijing's policy toward minorities just 18 months after a similar outburst by Tibetans in March 2008.
There is little sign yet, though, that the Chinese government is prepared to loosen its iron grip either on Tibet or the restive Muslim Uighur people in Xinjiang, say experts on the two regions. That augurs further unrest, they warn. On Wednesday, President Hu Jintao cut short his visit to the Group of 8 summit to return home to tackle the crisis.
Chinese officials have blamed Sunday's riot in Urumqi, which left 156 people dead – apparently mostly ethnic Han Chinese – on Uighur exile leader Rabiya Kadeer. Last year they blamed the Dalai Lama for the violence in Lhasa.
"They are missing the main problem, which is the real concern among Uighurs about how they are treated by Chinese society," says James Millward, a Xinjiang expert at Georgetown University in Washington. "They are missing an opportunity to relieve the stresses that have arisen."
---