What's behind cyber attacks on South Korea, US?
North Korea is blamed, but what's Kim Jong-il's strategy?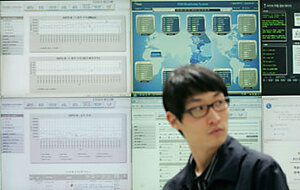 Ahn Young-joon/AP
North Korea is suspected of launching an unprecedentedly large cyber-attack this past weekend against South Korea and a smaller number of US government web sites.
The Internet attacks are not isolated, but closely tied a broader North Korean military strategy, including its recent missile and nuclear weapons tests, say analysts.
"The cyber attacks are part of an asymmetric warfare strategy," says Nicholas Eberstadt, senior fellow at the American Enterprise Institute in Washington. "Part of an effective confrontation with the US war machine would be the ability to disable US information [systems]."
South Korea's National Intelligence Service "believes North Korea or its sympathizers" of having masterminded an Internet attack on the web sites of government agencies, including the office of the South Korean president and the foreign and defense ministries, according to Yonhap, the South Korean news agency.
---