Spiritual mother of Uighurs or terrorist?
Rebiya Kadeer is a petite, successful businesswoman, who now lives in exile in Virgina.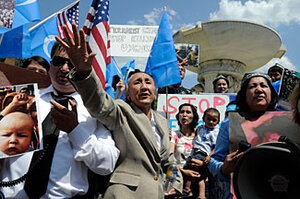 Stephen J. Boitano/AP
Her followers dub her "the spiritual mother of the Uighur people" and one admirer nominated her for a Nobel peace prize. The Chinese government calls her "an ironclad separatist colluding with terrorists and Islamic extremists."
Until this week, Rebiya Kadeer was the rather obscure leader of the little-known "World Uyghur Congress," which groups exiles from China's restive far-western region of Xinjiang.
She has rocketed to international prominence, however, on the back of accusations by Beijing that she was the "black hand" who instigated the most savage rioting to have hit China in 60 years. In last Sunday's violence in Xinjiang's capital, Urumqi, the Chinese government says 156 people died and more than 1,000 were injured – apparently mostly Han Chinese bystanders.
"She did as much, or more, than the Dalai Lama and his clique to sow resentment among the ethnic Uighur people and instigate their discontent and hatred towards the government," the Peoples Daily, official mouthpiece of the ruling Communist party, charged in a shrill editorial Tuesday.
That was a back-handed compliment. "In a sense, the Chinese have handed her a propaganda victory by suggesting that she has so much authority over Uighurs" in Xinjiang, says Gardner Bovingdon, an expert on Uigher affairs at Indiana University in Bloomington.
---